Hey there, I know it has been a while since I last posted. I just have not felt up to it. I have had a lot on my plate lately. We finally got renters in our place in Mississippi. Yippie!!!! So at least that payment is covered. So, it looks like I will not have to move out there early after all. Now we just need to find out if they are going to offer us a two year extension here. I think it might be best for us to stay here if they do offer it. It would allow us to put a bit more money into savings. If they do not offer it, this time next year I could be back in our place there in Mississippi.
I have a bunch of new cards to show you that I have been working on. I think some of them turned out really cute. The first set was all made using a freebie kit I got in with one of my Scrapbooking magazine I get from England.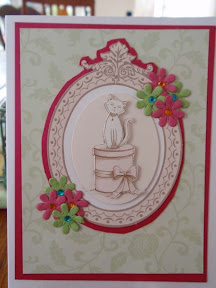 The flowers on this one are by Prima.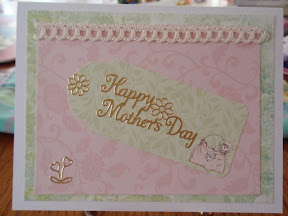 The cream border on this one is by Martha Stewart.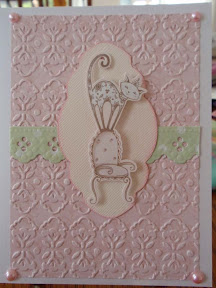 I embossed the background one this one with my cuttlebug.
This one is completely made with my E2 and CCR. The card base is from elegant edges, I welded two shapes together to make the card. The curious are from the wild west cart. I think this one turned out really cute.
- Posted using BlogPress from my iPad