I have a bunch more new cards for you to take a look at. I hope you like them. I have also started to make sets of gift tags to sell as well. I will post some photos of those next week.
We went and saw the last Harry Potter movie last night. It was very good. Tied up all the loose ends very well. Geese those movies have been around for a long ti e. Some of the kids that were coming out of the theater had not even been born yet when the first movie was released!!!! hahaha
I am sitting here in my kitchen waiting for country style hash browns to cook while posting this! hahaha Breakfast Yum!! It is also wet and rainy here today. Ick!!!!
Do you ever remember your dreams you had at night? I woke up to a very detailed and odd dream this morning. I dreamt I was in Hawaii and some one was going to show me how to scuba dive. I remember telling the person that I know you had to wear surf mocs because the lava crusts in the sand are super sharp and cut your feet. They then told me I had to remove all my jewelry and rings and such. I remember the feel of the sand as I sat to put my wet suit on. I remember thinking that Dave (my husband) and the boys were at the house. I woke up as I was getting ready to put my suit on. I remember I had some sort of kids sand bucket and little shovel with me to take under the water with me. This was just odd. I have not thought about anything to do with the beach in years!!! hahaha
All of the elements from this card are from my Cricut except the flowers. They are Prima.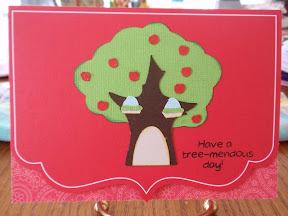 - Posted using BlogPress from my iPad